Increase the conversion rate and generate more leads for your company's online lead-generation services campaign.
The best method for contacting the right clients at the ideal moment and location!
Mahira Digital's lead generation services can provide you with more qualified and targeted leads in B2B and B2C markets. A lead generation company can be your first step in digital marketing services if you are interested in the customer or if they have expressed interest in your products or services.
Mahira Digital offers pay-per-lead services to assist in the growth of online businesses through paid advertising, organic website, or service optimization.
Functionality For Online Lead Generation Services
Lead generation is given much attention because it is the first step in bringing customers to the business. The CRM team will turn those leads into customers after the team assists in generating leads for the company to gain more clients.
Our team develops lead generation campaigns, which are then put into action to generate leads that have been verified. The clients' marketing/sales managers or the clients receive the qualified leads via email.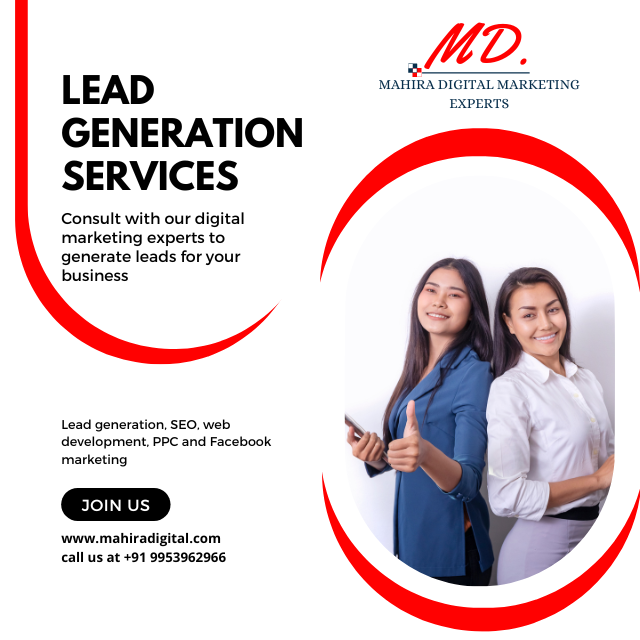 How Will You Benefit From Increased Leads?
Pricing is established on a per-lead basis.
The business is free to select the product they want to offer.
The business can decide on a specific region to grow in.
It draws in a more precisely targeted audience.
It regulates how many leads a company gets each month.
The business only pays for the leads it gets.
Lead Promise by Mahira Digital
Mahira Digital's leads are produced through distinctive web platforms that it owns and operates. The leads are manually verified and qualified using the BANT or other criteria established at the beginning of the campaign.
Mahira Digital guarantees that each lead it delivers has been manually verified and meets a real need. Customers can request that leads on their leads panel be replaced and receive consultation from Mahira Digital's support staff.
How Do We Make A Difference?
Our team uses a variety of well-researched techniques to aid in lead generation.
Fewer Sales Efforts
By handling every facet of generating hot, validated leads for your company, our lead generation company lessens the burden on your sales team. Our knowledgeable outsourced sales team members will handle all your sales-related tasks.
Continued Follow-ups
The team follows up on the leads generated consistently, and conversion rates quickly shift in the company's favour. Before sending the right lead to the company, we pull it in and double-check it.
Draws in the Customers
We employed an inbound strategy to generate leads, including paid search, content marketing, and opt-in emailing. Our lead generation company uses interactive marketing strategies to draw in potential clients.
Improve Lead Generation With Our Niche Pay Per Click Services!
Hire Mahira Digital Marketing Agency in Delhi to increase lead generation for your company and benefit greatly!