Each of us is aware of the significance and continued relevance of SEO. Consumers prefer high-quality information that gives them the specifics they need, even though they are searching for information online in increasing numbers.
The Website that houses such information is optimized using SEO, which ultimately affects the Website's ranking in Google for the better. At the same time, it aids in keeping your company strong, noticeable, and relevant.
Have you ever wondered what brings traffic to your Website if you are one of those with one?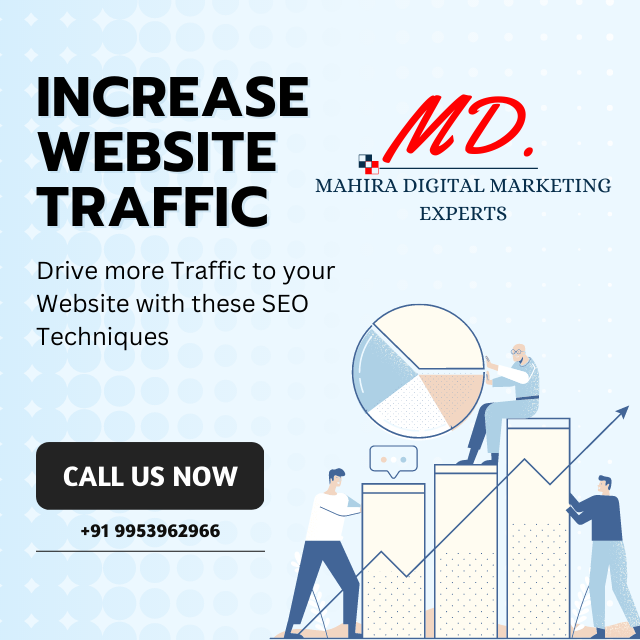 Good SEO practices go beyond simple optimization. Similar to SEO, SEO techniques are constantly evolving. Some methods become outmoded and unimportant over time. However, those in line with the most recent trends are constantly improving and replacing the older ones.
To increase the amount of high-quality traffic to your Website using SEO, try the following techniques:
Content Marketing
"Content is king," goes the saying. Attractive. How to optimize your Website with content marketing
Your Website must have stimulating content to be considered one in the truest sense of the word. This content should include eye-catching graphics, data related to the subject, effective infographics that help readers quickly grasp the subject and its importance, and, most importantly, some arresting, legally obtained images that will promote your company on other websites. It will act as an instant attention-grabber for viewers and draw high-quality links to your Website, increasing traffic to it.
Meaningful keywords that are posted twice or more per week are included in blog posts that are SEO-optimized. They support successful conversions by fostering the development of trust, obtaining high-quality backlinks, luring more leads, and so forth.
Articles that provide your site's visitors with useful information.
In general, the information presented should be helpful to the audience and provide answers to the difficult issues they encounter.
Email Marketing
The use of email is still widespread and continues to hold its own. People continue to open and click links in emails frequently. Even today, it is still a successful marketing strategy for promotions.
How to Do Email Marketing?
In the same way, it is still a successful SEO strategy. You can try various methods, like promoting your newsletter, to draw in more customers and make it even better. As a result, people will request it via email after becoming interested in it.
Advertisements on social media with catchphrases like "freebies" or "discounts in exchange for an email." People can sign up for your sign-up forms, giving you access to their email addresses.
Running a competition with prizes for the winners. Email addresses can be requested as part of entry requirements.
All of the strategies above can be successful and drive a steady traffic flow to your Website if properly thought out and implemented. Additionally, your Website can have calls to action. It will pique viewers' interest and prompt them to act decisively, such as by providing their email addresses.
Guest Posting
Articles written by visitors to your Website and posted there are referred to as "guest postings."
Your Website will benefit from high-quality guest postings.
Create links to internal pages on your Website to give visitors more ways to find the information they're looking for there.
Increase the number of links from popular websites. While enhancing user experience, it will provide your Website visitors with solid references.
The subscription element should be introduced within a scope. It will draw in high-calibre customers willing to pay for it and produce quality referral traffic.
Make arrangements with well-known writers or other reputable websites. It will contribute to the growth of referral traffic, which refers to both the traffic to your Website and the sites with which the agreement is made.
The winner will ultimately be your Website. It will generate quality, targeted traffic that will increase your authority and credibility while also assisting you in generating profitable sales.
Strong Local Presence
Your Website will likely draw high-quality local traffic if it establishes a solid local presence.
In addition to this, you can increase local traffic.
Updating your Google My Business (GMB) profile regularly with true information.
Acquiring significant testimonials from satisfied customers.
Obtaining local backlinks that will be a useful tool in localized searches.
Creating links to structured citations, such as online reviews and local directories.
Making sure local business blogs have unstructured citations.
The results will be dramatic—more leads and conversions—when integrated into a local link-building strategy and combined with local SEO.
Cultivation of Influencers
Recruiting respected influencers whose opinions are well-read and respected will aid in spreading the good word about your company and increasing traffic to your Website.
Utilizing influencer tools, such as Upinfluence, Pitchbox, etc., will assist you in locating influencers who are a good fit for your company and your Website's content and enlist their support.
Bloggers can also drive traffic and raise awareness of your brand addition to influencers. Your Website may receive a steady stream of visitors thanks to their blog posts that feature your company.
Participation in Online Communities
Participating in online communities can efficiently increase traffic to your Website, a method of SEO that is frequently underrated.
You can develop strong relationships by participating in online communities and connecting with people who can drive traffic to your Website and act as traffic facilitators. For example, Quora is a powerful online community platform that ranks highly on Google, which means that if people ask questions about your business or Website on Quora, your visibility will increase, and you'll get better leads. Answering inquiries from potential customers in a way that persuades them favourably is possible.
Reddit is another excellent online forum that can effectively increase your Website's traffic.
Final Word
Google keeps improving daily in terms of both intelligence and strength. In a similar vein, SEO tactics occasionally become more intelligent and effective.
Staying current with trends and being quick to adapt are urgently needed. Your Website can maintain an advantage over the competition by using the most recent SEO techniques. Furthermore, they noticed a significant improvement in its ongoing relevance, as evidenced by higher click-through rates and higher placement in Google search results.
Note: Consult with Mahira Digital Marketing Agency in Delhi, our SEO experts provide the best SEO services in Delhi.