A Beginner's Guide to the B2B Lead Generation Process in Digital Marketing
Lead generation can be difficult and inaccurate, especially without a plan. However, combining the right tools, tactics, and best practices can produce beneficial outcomes.
What is B2B Lead Generation?
It is essential to comprehend B2B lead generation and how it differs from B2C lead generation before launching a campaign.
Why it's Important to Use Digital Channels for B2B Lead Generation?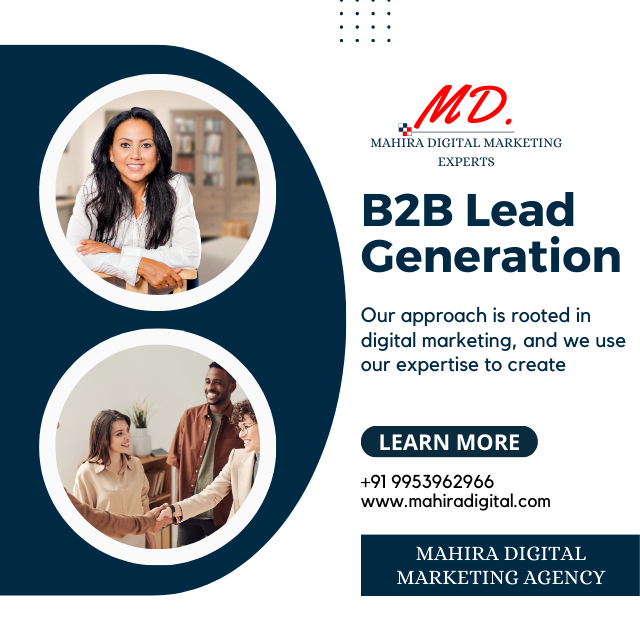 A crucial factor is building a pipeline of consistent leads, which is where digital marketing for B2B companies comes into play:
Through SEO, Content Marketing, Paid Media, LinkedIn Marketing, and other strategies, B2B digital marketing paves the way for enduring demand and lead generation.
Digital marketing can significantly raise a brand's awareness and increase your company's share of voice in the target market.
By developing customized campaigns at each stage, a digital marketing agency can help you target leads throughout the sales funnel.
Lead generation is just one benefit of B2B digital marketing. It also helps you establish yourself as a thought leader.
Building a B2B Digital Marketing Plan for 2023
The key decision-makers of an organization tasked with fostering growth for their company are the target audience in the B2B sector.
These people make decisions after careful consideration because they are part of your target audience. Therefore, similar to how you would build a B2B digital marketing strategy in 2023, careful consideration is necessary to create a useful strategy that focuses on the following:
SEO for B2B Businesses
Since the key decision makers are the target market for B2B SEO, the keywords you intend to target will have less search volume than the B2C market. More importantly, if necessary, the content should be tactical and technical. The emphasis here should be on value addition. Always hire the best SEO services provider to get the best results.
B2B Content Marketing
High-quality content that offers users genuine value is the cornerstone of B2B lead generation. High-quality and useful content will position your company as a subject-matter authority. Additionally, it fosters natural interactions with prospects and cleverly guides them down the sales funnel to make purchases.
The following can be part of a content marketing strategy for businesses:
Make a Lead Magnet Using the Content on the Site
Fixing or adding content to your website is the first step. The goal is to raise brand awareness while generating traffic and leads, and high-quality content accomplishes just that! Creating educational blog posts, infographics, case studies, landing pages, resource centers, etc. are a few examples of onsite activities.
No matter the industry, the B2B audience always makes decisions after careful consideration. Therefore, it would be beneficial if you emphasized your area of expertise, USPs, and value addition in various forms of content. But, more importantly, it should fit with where the user is in the sales funnel and the user journey. For instance, blog posts should focus on educating the readership about a specific topic. Likewise, value propositions and CTAs that urge visitors to decide should be on landing pages.
Use Guest Blogging
If done correctly, it is one of the best ways to become a thought leader and establish your company as a household name.
Make a list of all the reputable, authoritative, non-competitive websites and blogs that cater to your target market and are the best fit for your company to attract good traffic and accept guest blogging.
Bring up interesting and timely topics to the blog's owner or editor. Include a compelling headline to help your website attract the right kind of visitors.
If you get positive feedback, write an engaging blog post that gives the reader useful information, then publish it.
Avoid self-praise in these posts; they should be natural and genuinely helpful to the reader.
Personalize The Subject:
Everyone enjoys reading material that meets their needs. The information should address the readers' needs and alleviate their problems. For instance, the content should answer the reader's questions if they want to learn more about B2B marketplaces. To customize their experience, you should have various types of content, such as blog posts, whitepapers, product pages, etc., depending on where they are in the funnel.
Benefit from Quora marketing
Establishing yourself as a subject matter expert in your field is easy with Quora Marketing. But it must be carried out carefully. By answering their questions or assisting them with issues related to a particular niche, use the platform to establish communication with people. Adding value is the best way to build engagement, and Quora is full of users looking for solutions.
Create a LinkedIn marketing strategy. LinkedIn can be a great platform for promoting your brand, connecting with potential customers, and generating leads. It is a professional platform, so you can target your B2B audience, which is more important. It takes careful planning to build a LinkedIn marketing strategy and to accomplish your goals. You should combine organic and paid methods.
How to Produce B2B Leads Through PPC Marketing:
The following platforms make up an ideal Pay-per-click (PPC) advertising campaign for B2B businesses:
The most successful form of paid advertising is Google Ads. The average conversion rate for search ads is 3.75%. These average figures, however, largely depend on the sector. This number may even be lower for the B2B sector, but the ROI is noticeably higher.
The following elements must be optimized to use Google Ads for paid marketing campaigns to their full potential to grow reach, engagement, and leads:
Ads: Finding the best-performing ads would be easier if you had the right combination. For instance, it is crucial to redefine the campaigns and focus your efforts there if Google search ads perform better than display ads.
Landing page and ad copy optimization are crucial to highlighting the value proposition and improving the positioning of CTAs. However, you must concentrate on the design, knowledge, and creative components to make this happen.
Targeted Keywords: Since pay-per-click advertising is involved, you require highly targeted keywords to generate high-quality traffic. Assume, for instance, that you are promoting a CRM SaaS platform. In that case, the campaign and the target audience's search patterns should be consistent with the targeted keywords.
Instagram Ads
Due to its data, which allows for the creation of extremely targeted ads, Facebook is thought to be one of the most effective platforms for paid advertising. In addition, Facebook Ads are also a fantastic lead generation tool because they can isolate and target a very narrow demographic most likely to convert. As a result, your company can quickly experience a significant influx of new leads with ad retargeting and skillfully created Facebook Ad campaigns.
LinkedIn Ads: LinkedIn marketing includes LinkedIn Ads. You can use it to target the B2B market by job title, sector, and other factors. Sponsored Content, Text Ads, and Message Ads are the three categories of LinkedIn ads you can target. Each of these ad formats has benefits and drawbacks that depend on the sector you work in. As a result, you must actively monitor the analytics of your campaigns to identify the best-performing ones generating the most leads.
Affiliate Marketing: Affiliate marketing pays another website or organization to promote your good or service in exchange for a cut of the conversion or sale proceeds. If you use this channel correctly, it will be profitable. This is necessary for B2B lead generation through affiliate marketing, from choosing the best B2B affiliate to incorporating the incentives.
Conclusion
Developing and implementing B2B lead generation strategies across channels can be challenging. However, more importantly, it combines paid and organic efforts.
This post has listed all the pertinent B2B marketing lead generation channels and best practices. If you have any inquiries or want more information about our B2B lead generation and marketing services, please get in touch with our team.