Different Types of Websites
In today's digital age, websites have become integral to our lives. They serve as gateways to information, entertainment, e-commerce, and much more. However, not all websites are created equal. Various websites are designed with a specific purpose and target audience.
In this blog post, we will delve into the world of websites, exploring their different types and uncovering fascinating facts and statistics about them. So, let's dive in!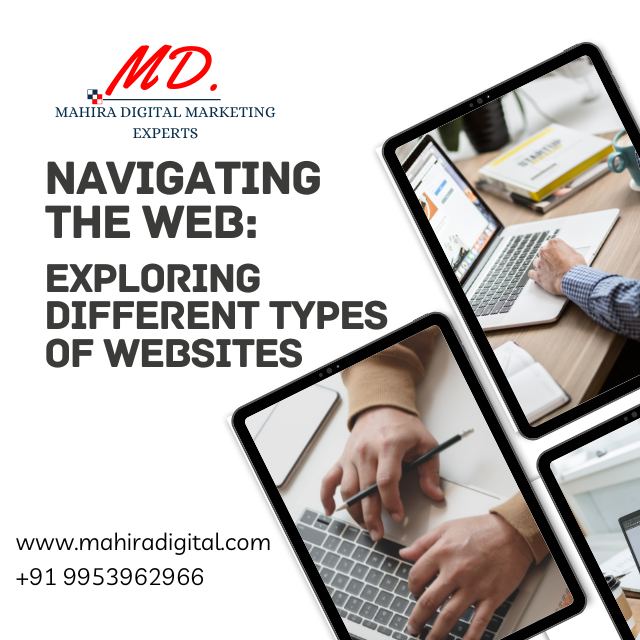 1. E-commerce Websites:
E-commerce websites have witnessed tremendous growth over the years. With the convenience of online shopping, consumers can browse and purchase products from the comfort of their homes. Here are some noteworthy facts and statistics about e-commerce websites:
– Global e-commerce sales reached a staggering $4.28 trillion in 2020, and this number is projected to reach $6.39 trillion by 2024.
– Mobile commerce (m-commerce) is rising, with over 73% of e-commerce sales expected to be via mobile devices by 2021.
– The most popular product categories for online purchases include electronics, fashion, and personal care products.
– Marketplaces like Amazon and Alibaba dominate the e-commerce landscape, accounting for significant online sales.
2. Social Networking Websites:
Social networking websites have revolutionized the way we connect and interact with others. These platforms provide avenues for sharing thoughts and media and building virtual communities. Here are some intriguing facts and statistics about social networking websites:
– Facebook remains the most popular social media platform, with over 2.8 billion monthly active users as of 2021.
– YouTube, a video-sharing platform, boasts over 2 billion logged-in monthly active users, making it the second-largest social media site.
– Instagram, known for its visual content, has over 1 billion monthly active users, and 90% follow at least one business account.
– LinkedIn, a professional networking platform, has over 774 million registered users, with executives from all Fortune 500 companies represented.
3. News and Media Websites:
News and media websites are crucial for delivering real-time information and informing us about current events. Here are some noteworthy facts and statistics about news and media websites:
– As of 2021, over 53% of adults in the United States relied on digital sources as their primary means of news consumption.
– The New York Times, one of the most renowned news websites, had over 7 million digital-only subscribers as of Q1 2021.
– Online video news consumption has increased, with 47% of Americans regularly getting news from video sources.
– Social media platforms are increasingly becoming important news sources, with 55% of adults in the U.S. accessing news through social media sites.
4. Blogging Websites:
Blogging websites provide individuals and businesses platforms to express their thoughts, share expertise, and engage with their audiences. Here are some fascinating facts and statistics about blogging websites:
– WordPress is the most widely used content management system (CMS), powering over 40% of all websites on the internet.
– Bloggers prioritizing content creation and publishing consistently are more likely to achieve better results and attract a larger audience.
– Blog posts that contain images receive 94% more views than those without images, highlighting the importance of visual content.
– Businesses prioritizing blogging efforts are 13 times more likely to achieve a positive return on investment (ROI).
Mahira Digital: Revolutionizing the Web Experience
Among the numerous web development and digital marketing agencies, Mahira Digital is an innovative and forward-thinking company dedicated to helping businesses thrive online. With its expertise in website design, development, and digital marketing strategies, Mahira Digital has successfully carved a niche for itself. Here's what sets Mahira Digital apart:
1. Creative Website Design:
Mahira Digital understands the importance of visually appealing and user-friendly websites. Their talented designers create captivating designs that align with clients' brand identities and cater to their target audiences. From sleek and modern layouts to intuitive navigation, Mahira Digital's website designs leave a lasting impression.
2. Custom Development Solutions:
Mahira Digital offers tailor-made development solutions to meet each client's unique requirements. Whether it's an e-commerce website, a content management system, or a web application, their experienced developers employ cutting-edge technologies and best practices to build robust and scalable websites.
3. Search Engine Optimization (SEO):
Recognizing the significance of organic search visibility, Mahira Digital Marketing Agency implements effective SEO strategies to optimize clients' websites for search engines. Conducting thorough keyword research, optimizing on-page elements, and creating quality backlinks, help businesses improve their search engine rankings and drive organic traffic.
4. Social Media Marketing:
Mahira Digital leverages the power of social media platforms to boost brand awareness, engage with the target audience, and drive website traffic. Through strategic content creation, community management, and targeted advertising, they create impactful social media marketing campaigns that yield tangible results for their clients.
5. Data-driven Analytics:
Understanding the importance of data-driven decision-making, Mahira Digital employs robust analytics tools to track website performance, user behavior, and campaign effectiveness. By analyzing these insights, they provide valuable recommendations and optimize strategies to drive continuous improvement.
6. Excellent Client Support:
Mahira Digital takes pride in offering exceptional customer support. Their dedicated team of professionals ensures that clients' concerns are addressed promptly and that they receive the assistance they need throughout the project and beyond. Building strong client relationships is a priority for Mahira Digital.
Conclusion:
As the online landscape continues to evolve, websites play an increasingly vital role in our personal and professional lives. From e-commerce platforms to social networking sites, news outlets to blogging platforms, each type of website serves a unique purpose and caters to specific user needs. Understanding these different types of websites and their associated facts and statistics can help us navigate the digital world more effectively.
Regarding web development and digital marketing, Mahira Digital is a trusted partner. With their expertise in website design, custom development solutions, SEO, social media marketing, and data-driven analytics, Mahira Digital empowers businesses to establish a strong online presence and achieve their goals. By embracing innovation and delivering exceptional client support, Mahira Digital continues to shape the future of the web. So, whether you're a business owner looking to enhance your online presence or an individual seeking engaging web experiences, Mahira Digital is poised to meet your digital needs with excellence and professionalism.