Website Redesigning in Delhi With Mahira Digital
In the rapidly evolving digital landscape, a website serves as the virtual front door to your business.
A well-designed website leaves a lasting impression, enhances user experience, drives traffic, and boosts conversion rates.
If you want to breathe new life into your online presence, consider partnering with Mahira Digital, a leading Website design company in Janakpuri.
Why Website Redesign Matters?
In the digital age, a stale or outdated website can leave potential customers unimpressed, leading to missed opportunities.
This is where the expertise of a professional web design company like Mahira Digital comes into play.
A Website Redesign isn't just about aesthetics; it's about creating a functional and visually appealing platform that resonates with your target audience.
About Mahira Digital
Mahira Digital, a prominent Website design company in Janakpuri, is dedicated to helping businesses elevate their online presence through innovative design and strategic thinking.
With a team of creative designers, skilled developers, and digital marketing experts, Mahira Digital offers a holistic approach to website design and development.
The Website Redesign Process
1. Assessment and Analysis:
The journey begins with a comprehensive assessment of your current website. Mahira Digital's team thoroughly analyses your site's user interface, user experience, content, and overall functionality. This step allows them to identify pain points and areas for improvement.
2. Design Strategy:
Crafting a captivating website requires a well-thought-out design strategy. Mahira Digital works closely with clients to understand their brand identity, values, and goals. This ensures that the Website Redesigned website aligns with the client's vision while delivering an enhanced user experience.
3. Responsive Design:
In today's mobile-driven world, responsive design is non-negotiable. Mahira Digital Marketing Agency ensures that the Redesigned website is optimized for all devices, providing a seamless experience for users whether they're browsing on a desktop, tablet, or smartphone.
4. Visual Revamp:
Aesthetics play a significant role in capturing users' attention. The creative team at Mahira Digital employs visually appealing elements, captivating imagery, and an intuitive layout to make your website visually engaging and impactful.
5. User-Centric Navigation:
User experience is paramount in website design. Mahira Digital employs user-centric navigation principles, making it easy for visitors to find the information they seek. Clear call-to-action buttons and intuitive menus guide users through the site effortlessly.
6. Optimized Content:
Compelling content is the backbone of any website. Mahira Digital assists in creating or refining content that is not only informative but also optimized for search engines. This ensures your website ranks well in search results and attracts organic traffic.
Why Choose Mahira Digital for Website Redesign?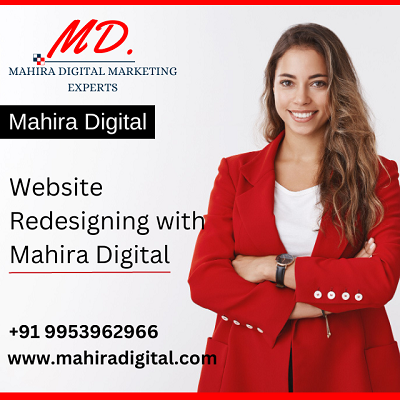 – Expertise: With years of experience in the industry, Mahira Digital boasts a team of seasoned professionals who stay updated with the latest design trends and technological advancements.
– Tailored Solutions: Every business is unique, and Mahira Digital understands this. They offer customized solutions that cater to your specific needs and objectives.
– Proven Track Record: Mahira Digital's portfolio showcases various successful Website Redesign projects, highlighting their ability to deliver exceptional results.
– Digital Marketing Integration: A Website Redesign is an opportune time to integrate digital marketing strategies. Mahira Digital offers SEO, social media integration, and content marketing services to drive targeted traffic to your newly designed website.
The Success Story: Before and After
Let's look at a hypothetical success story of a business that partnered with Mahira Digital to Redesign its website.
Before Website Redesign:
Dr Hera Skin & Hair Clinic, a local retail business, had an essential and outdated website that could have effectively showcased its products, services, or brand identity.
The website needed more visual appeal, and its user experience left much to be desired. As a result, bounce rates were high, and the conversion rate was disappointingly low. Dr Hera Skin & Hair Clinic realized they needed a fresh approach to their online presence.
After Website Redesign with Mahira Digital:
With the expertise of Mahira Digital's team, Dr Hera Skin & Hair Clinic underwent a transformative Website Redesign.
The results were remarkable. The new website boasted a modern, eye-catching design reflecting the brand's identity.
The user interface was intuitive, allowing visitors to navigate effortlessly through the site.
High-quality images and engaging content showcased Dr Hera Skin & Hair Clinic's products in the best possible light. Calls to action were strategically placed, encouraging visitors to explore further and make purchases.
The Website Redesign also included SEO optimization, allowing Dr Hera Skin & Hair Clinic to climb the search engine rankings.
Integrating social media buttons and a responsive design ensured the website remained accessible and engaging across all devices.
As a result, bounce rates decreased, organic traffic increased, and, most importantly, the conversion rate experienced a significant boost.
Taking the Leap: Your Website Redesign Journey Are you ready to take your online presence to the next level?
Whether your website needs a complete overhaul or a subtle revamp, Mahira Digital, the top-notch Website design company in Janakpuri, is here to guide you through the process.