[aioseo_breadcrumbs]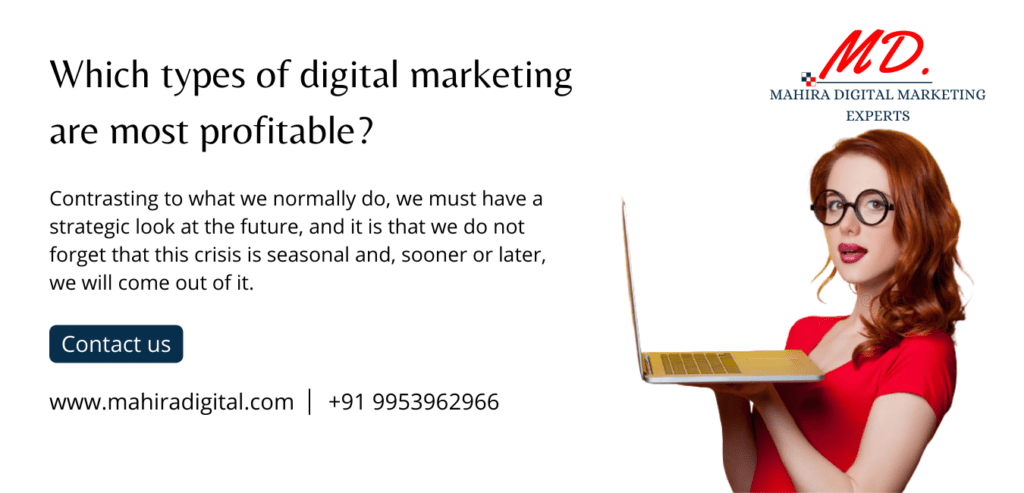 Contrasting to what we normally do, we must have a strategic look at the future, and it is that we do not forget that this crisis is seasonal and, sooner or later, we will come out of it. For this reason, understanding behavior patterns and their implications are crucial to developing a digital strategy in times of uncertainty.
To implement a digital marketing strategy, you must first know the types of digital marketing in the market. Today, the most used is content marketing. However, the other types are also important, but many times, due to lack of information, they are not developed as they should be.
We will mention each of the most profitable types of Digital Marketing and discuss their specific objectives. In this way, those interested in digital marketing will differentiate and know which types are the most suitable to implement within their strategy.
Content marketing
Content marketing is one of the most widely used types of Digital Marketing today, making it the most profitable too. The digital marketing agencies know their importance. Suppose the content of a portal is not attractive enough or is redundant for its target. In that case, it will not position itself on the Internet; much less obtain the ROI (Return on Investment) than expected and the projected scope.
The goal of content marketing is to produce things that inspire the user. This can be identified with the content and, against that, take some action that benefits the brand. In addition, developing content of interest and quality generates confidence in the readers. In this way, the construction of a brand becomes stronger compared to the others.
Search Engine Optimization
SEO, "search engine optimization," is a process through which it is intended to improve a website to increase its positioning in user searches. It is quite popular in the digital marketing world, making it one of the most profitable strategies. By optimizing the website and improving its visibility in search engines, the business will increase its chances of attracting potential customers. Some SEO factors to consider improving your marketing strategy are:
Improve the quality of the content, considering that it is of interest.
Establish strategic, competitive and relevant keywords.
Tracking capacity and download speed of the website.
Valuable and authoritative link-building strategies.
Constant audits of the status and operation of the website.
Search Engine Marketing
SEM, "search engine marketing," is also widely popular and is a process that comprises tools, strategies, and techniques to optimize the visibility of websites in search engines. Although SEM can encompass organic web positioning (SEO) and paid web positioning, it mainly refers to the latter. This is also known as PPC or pay-per-click marketing.
Therefore, SEM marketing actions are when the advertiser seeks to get traffic by investing in search engine advertising. For which it is based on measurable indicators such as impressions, clicks and CTR. In this way, by placing high-performance ads, the company aims to achieve rapid positioning on the main page of search engines. A widely used SEM marketing strategy is advertising ads through Google Ads. These three strategies are the most profitable type of Digital Marketing out there.