5 Effective Ways to Drive More Website Traffic
Google answers more than 40,000 search queries every single second. Intriguingly, the quantity of queries is also shown in real-time.
Many businesses may need help to develop innovative ideas to increase website traffic besides website advertising. But regrettably, much false information is circulating online about how to boost traffic, which may encourage people to keep using the same ineffective strategies.
But you are not that. Instead, you've created a top-notch website because you want to maximize the impact of your internet marketing initiatives. You've reached the correct location now.
Here are 5 tested methods for getting more traffic to your online hub. Ready? Let's move forward.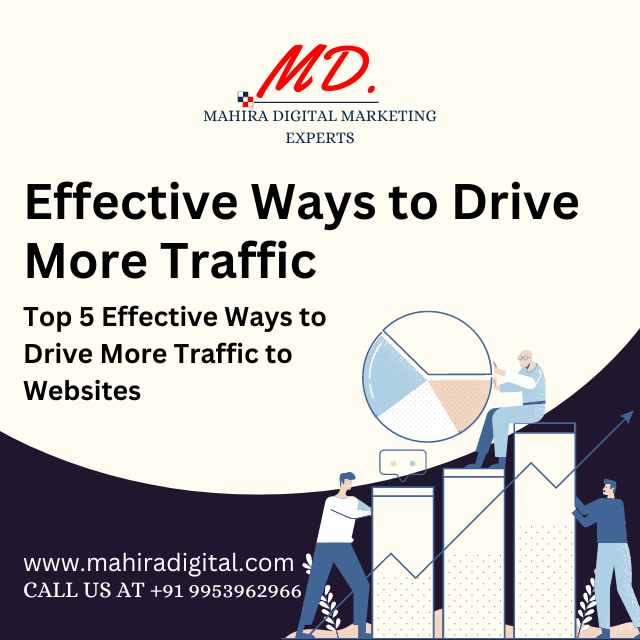 Create Cool Things
Publishing amazing (relevant, meaty, juicy) content keeps readers interested once they have clicked through to your site, in addition to helping your site's position in search engine results pages (SERPs).
Because of this, simply publishing content isn't enough; you also need to create content that differentiates itself from the competition. Find out how you differentiate yourself from the competition and why your company is the best choice for your client's requirements.
Refreshing Outdated Information
Publishing new content frequently will please your readers and Google's constantly changing algorithm. If your website's content is updated, simple advertisements are useful.
You can update your content in more ways than just by editing previous blog posts. Consider producing an infographic or explanation video using previously written blog posts.
Advertising on websites to increase traffic
Paid website advertising, like pay-per-click (PPC) and social media advertisements, can help you reach a wider audience while focusing on your ideal customer, even though the organic search is superior to sponsored traffic generation (about 5.66% better).
Combining organic and paid website advertising as part of a content-driven digital marketing strategy increases website traffic. A recent study found that both organic and paid website advertising account for over 76% of all traffic to B2B websites.
SEO should be taken into consideration
SEO (search engine optimization) is vital if you want people to visit your website. Several variables may affect your website's search engine optimization (SEO) campaign. On-page SEO, however, might be the most crucial (search engine results pages). If your website is higher on the search engine results page, more Google users will visit it (SERP).
The page's elements, including the title, h1 or header, meta description, alt text, and URL, should contain pertinent keywords that highlight the page's objective.
Backlinks Should Be Swapped
Backlinking to the website of your business has many benefits. More exposure and higher rankings in search results (outside of website advertising) are two examples. According to research, the top-ranking websites in Google's search results had 3.8 times as many incoming links as those that appeared in the second through tenth positions.
Directories are one source of backlinks, but the best way to build link popularity and juice is by producing high-quality, evergreen content that genuinely benefits your target audience. The following step is to contact experts in the field to request their input. As an additional incentive, they offer to place one of their links in one of your articles and suggest a backlink exchange.