Real Estate Investor Website
In today's rapidly evolving digital landscape, establishing a robust online presence is not just a choice but a necessity for real estate investors.
The power of a well-designed website cannot be understated, especially when attracting potential clients and effectively showcasing properties.
One platform that consistently proves its worth in this endeavour is WordPress.
When coupled with the expertise of Mahira Digital, a premier Website design and SEO Company in Janakpuri, you can craft an impressive Real Estate Investor Website that captures attention and ranks prominently on search engines.
Why WordPress?
Why is WordPress the go-to choice for building Real Estate Investor Websites?
The answer lies in its versatility, user-friendliness, and abundant customization options.
Whether you're a tech-savvy developer or a beginner, WordPress offers a seamless experience in creating and managing websites.
Its diverse themes and plugins enable you to tailor your website to match your unique branding and effectively display your real estate offerings. Its scalability means your website can grow as your business expands.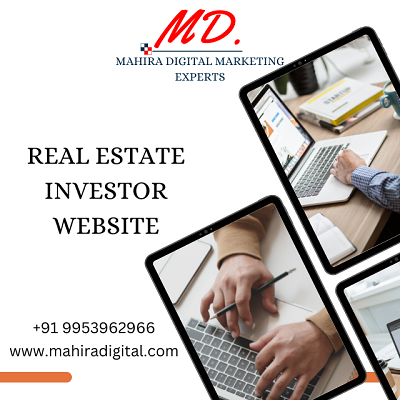 Introducing Mahira Digital:
At the forefront of cutting-edge web solutions stands Mahira Digital.
A well-established Website design company in Janakpuri, Mahira Digital specializes in transforming businesses into digital powerhouses through their expertise in web design, SEO strategies, and optimization techniques.
With their renowned WordPress Speed Optimization Service, Mahira Digital is well-equipped to enhance your Real Estate Investor Website's loading speed, providing visitors with an enjoyable browsing experience that keeps them engaged.
Key Features of an Effective Real Estate Investor Website:
1. Responsive Design:
A responsive design is non-negotiable in a world where people access websites from various devices.
Mahira Digital recognizes this significance, ensuring your real estate website functions seamlessly on smartphones, tablets, and desktops. This adaptability enhances user experience and encourages potential clients to explore your offerings.
2. Property Listings:
The core of any Real Estate Investor Website is its property listings. Mahira Digital excels in creating an organized and user-friendly property listing system.
Stunning images, comprehensive descriptions, and interactive virtual tours give visitors a comprehensive view of your properties.
3. WordPress Speed Optimization Service:
Slow-loading websites can lead to frustration and high bounce rates. You can wave goodbye to such issues with Mahira Digital's WordPress Speed Optimization Service.
Their technical expertise fine-tunes your website's performance, ensuring rapid loading times that captivate and retain visitors.
4. Search Engine Optimization (SEO):
A beautifully designed website is only effective if your target audience can find it.
Mahira Digital's prowess in SEO is invaluable here.
Implementing effective keyword strategies, optimizing content, and fine-tuning metadata can elevate your website's search engine rankings, making sure it's easily discoverable by potential clients.
5. User-Friendly Navigation:
Navigating a website should be intuitive and seamless. Mahira Digital pays meticulous attention to crafting user-friendly navigation systems that guide visitors effortlessly through your real estate offerings.
This includes easy access to property listings, prominent contact information, and any supplementary resources you wish to provide.
Creating a seamless user experience is pivotal in real estate, where clients seek convenience and efficiency.
Mahira Digital's commitment to detail extends beyond aesthetics, focusing on functionality that genuinely matters to you and your potential clients.
Captivating Visuals: In real estate, first impressions matter immensely. Mahira Digital understands this and can help you integrate high-quality images, 360-degree virtual tours, and even videos of your properties.
By showcasing your offerings in the best light, you'll leave a lasting impact on visitors, making them more likely to engage further with your website.
Engaging Content: Beyond stunning visuals, compelling content is essential.
Mahira Digital's team of content strategists can assist in creating persuasive property descriptions that highlight the unique selling points of each listing.
Engaging, informative content educates potential buyers or renters and boosts your website's credibility.
Personal Branding: Mahira Digital recognizes the importance of reflecting your unique brand identity on your website.
From colour schemes to typography, they work with you to infuse your brand's essence throughout the site.
This consistency helps establish a memorable and cohesive online presence that resonates with your target audience.
Customer Interaction: Effective communication channels are vital for real estate transactions.
Mahira Digital can integrate user-friendly contact forms, chatbots, and click-to-call features, enabling visitors to contact you effortlessly.
This seamless communication can significantly enhance customer engagement and lead to conversions.
Lead Generation: A successful Real Estate Investor Website should be designed to capture leads effectively.
Mahira Digital can implement lead generation forms strategically placed throughout the website, allowing you to collect valuable contact information from potential clients.
This data can then be used for follow-up and nurturing, increasing the likelihood of conversions.
Mobile Optimization: With an increasing number of users browsing on mobile devices, mobile optimization is a priority.
Mahira Digital's expertise ensures that your Real Estate Investor Website is responsive and optimized for various screen sizes. This guarantees a consistent and enjoyable experience for users across all devices.
Ongoing Support: Mahira Digital's commitment to your success continues after the launch of your website.
They offer ongoing support and maintenance services to ensure your website remains up-to-date, secure, and optimized for peak performance.
This dedication to post-launch support sets them apart as a partner invested in your long-term success.
Conclusion on Real Estate Investor Website
In the competitive world of real estate, a robust online presence can be the key to unlocking new opportunities.
By leveraging WordPress's capabilities and Mahira Digital's expertise, you can create a Real Estate Investor Website that sets you apart.
From WordPress Speed Optimization Service to top-notch website design and SEO expertise, Mahira Digital is your partner in creating an exceptional online platform that not only impresses visitors but also generates leads and drives conversions.
Use the chance to establish yourself as a prominent real estate investor with a compelling website.
Invest in the expertise of Mahira Digital, a trusted Website design and SEO Company in Janakpuri, and watch your real estate business flourish in the digital realm. Your journey to a remarkable online presence starts here.