Mahira Digital is the best Google Promotion Company in Delhi
The Premier Google Promotion Company in Delhi – Mahira Digital
Google promotion company: In today's fast-paced digital landscape, establishing a robust online presence is not just an option but a necessity for businesses aiming to thrive.
With an ever-increasing number of potential customers turning to search engines, notably Google, to discover products and services, ensuring your offerings are prominently featured is paramount.
In the heart of Delhi's bustling business scene emerges a distinguished name specialising in making this a reality – Mahira Digital, Delhi's leading Google Promotion Company.
The Significance of Google Promotion
Google is the unrivalled leader among search engines, commanding a staggering 90% of the global market share.
When prospective customers search for keywords pertinent to your business, your website's presence at the top of the search results is pivotal.
Such heightened visibility amplifies your chances of attracting organic traffic and instils trust and credibility among potential customers.
Google Promotion in Delhi, often termed search engine optimization (SEO) and search engine marketing (SEM), encompasses strategies aimed at optimizing your website and running paid advertisements to amplify its visibility on Google's search engine results pages (SERPs).
4 Reasons to Consider Google Promotion Services for Your Business
Do you want more people to learn about your business, products, or services? Using Google Ads might be the solution.
Google Ads, managed by a skilled Google Promotion Company in Delhi, can connect you with people interested in your offer.
Here's why you should consider using Google Ads, especially with the help of a Google Promotion Company in Delhi.
Great Returns on Investment:
While spending money on advertising might seem scary, Google Ads can give you good results. When used right, they can bring you more customers and sales.
It might take some time to figure out the best strategy, but it's worth it. A Google Promotion Company in Delhi can help you understand how to maximise your investment.
Build Your Brand: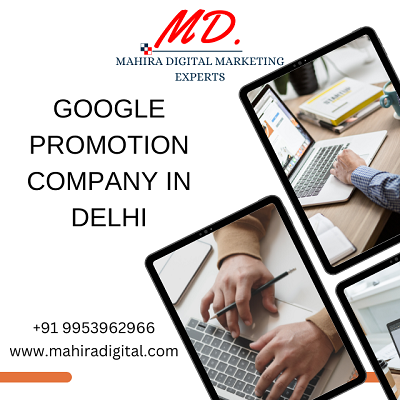 Google Ads can help people get to know your brand.
Even if people don't click on your ads, they might see them multiple times.
This allows them to recognize your brand and what you offer.
With Google Branding Services In Delhi, provided by a Google Promotion Company in Delhi, you can make your brand more familiar to potential customers.
Quick Results:
Google Ads work faster than other ways of getting noticed online, like SEO. With suitable ads, your business can quickly appear at the top of search results.
While long-term strategies like SEO are essential, Google Ads can get you faster results.
Google Branding Services In Delhi, offered by a Google Promotion Company in Delhi, can help you achieve this.
Easy to Understand:
Google Promotion Service in Delhi is user-friendly.
You can see how people are interacting with your website and ads. You'll know how many people clicked, what keywords they used, and more.
Google Analytics can give you even more detailed information.
In short, Google Promotion Services can help your business grow.
Working with experts like a Google Promotion Company in Delhi lets you get the most out of your online advertising.
It's a way to connect with people looking for your offer.
Discover Mahira Digital: Your Ally in Online Triumph
In the realm of Google Promotion in Delhi, Mahira Digital shines as a beacon of excellence.
As a preeminent digital marketing agency specializing in SEO and SEM, Mahira Digital has etched an illustrious reputation for facilitating the online growth of businesses spanning various scales.
Armed with a team of proficient professionals who are well-versed in the fluid nuances of online marketing, Mahira Digital has solidified its standing by delivering tangible and transformative results.
Unique Attributes of Mahira Digital
Tailored Strategies:
Mahira Digital comprehends the distinctive fabric of each business.
Their strategies are meticulously customized to align with each client's singular needs and aspirations, ensuring an approach that resonates with maximum efficacy.
Holistic Paradigm:
The ethos of Mahira Digital transcends mere top-tier search result rankings.
They champion a holistic methodology that encompasses user experience, website design, content quality, and more – a medley that drives traffic and nurtures enduring customer relationships.
Transparency and Collaboration:
At Mahira Digital, transparency isn't just a buzzword; it's a way of doing business.
Regular updates and detailed reports keep clients apprised of ongoing progress, ensuring collaboration and a clear understanding of the strategies' impact.
Proven Track Record
The testimonials of Mahira Digital's clientele are a testament to their prowess.
Across diverse industry landscapes, the agency has orchestrated remarkable improvements in online visibility, website traffic, and conversion rates.
Mahira Digital's Array of Services
Search Engine Optimization (SEO):
Mahira Digital crafts a symphony of on-page and off-page SEO techniques to elevate your website's organic search rankings.
Search Engine Marketing (SEM):
Through astutely crafted Google Ads campaigns, Mahira Digital positions your business at the zenith of search results for relevant keywords, channelling instant and highly targeted traffic.
Content Strategy:
Commanding the digital realm requires resonant content. Mahira Digital empowers you to create and optimize content that resonates with your audience and search engine algorithms.
Website Design and Development:
A sleek, user-friendly website is the portal to digital triumph. Mahira Digital can rejuvenate your current website or construct an entirely new one, ensuring a seamless and engaging browsing experience.
Conclusion on Google Promotion Company in Delhi
In a digital landscape rife with competition and marked by fleeting attention spans, an authoritative online presence is not just desirable – it's imperative. Scaling the heights of Google's search results might appear daunting.
However, it becomes an achievable ambition with an adept partner by your side.
Mahira Digital, the premier Google Promotion Company in Delhi, proffers the expertise, dedication, and results-driven ethos that can genuinely transform your digital journey.
Venture beyond mere navigation; conquer the digital realm alongside Mahira Digital.
Your digital triumph begins here.