Mahira Digital the best Google Maps SEO
Google Maps SEO: In today's digital age, the significance of local search engine optimization (SEO) cannot be overstated.
With more and more people turning to the internet to find local businesses, optimizing your online presence for local search results has become crucial.
Among the many tools available, Google Maps SEO is a powerful way to enhance your local search engine ranking.
In this article, we'll delve into the world of Google Maps SEO, why it matters, how to get started, and ten expert tips to boost your local search engine ranking.
Why Stress About Google Map SEO?
In a world where smartphones and mobile devices reign supreme, Google Maps has become essential for users looking for nearby products and services.
When someone searches for a local business, Google Maps listings are often the first thing they see.
This prime real estate on search engine result pages can significantly impact your business's visibility and credibility.
Thus, investing time in optimizing your Google Maps presence is a strategic move that can drive more foot traffic and conversions.
Before Getting Started with Local Search Engine Ranking
Before diving into the nitty-gritty of Google Maps SEO, laying the groundwork is essential. Ensure your Google My Business (GMB) profile is claimed and verified.
This process involves requesting a postcard from Google, including a verification code you'll enter into your GMB account.
This step is crucial to confirm your business's legitimacy and start appearing on Google Maps.
The verification process might take a couple of weeks. However, it's a fundamental step to get started with optimizing your local search engine ranking.
10 Tips For Google Maps SEO
Tip 1: Ensure Your Business Details are complete and up-to-date
Your GMB profile should provide accurate and comprehensive information about your business. This includes your business name, physical address, local phone number, and operating hours. Inconsistent or incomplete information can confuse users and search engines, leading to lower rankings.
Tip 2: Verify Your Business Physical Location
Verifying your business location legitimises your presence and improves your chances of ranking higher in local searches. It's a relatively simple process that involves confirming your business address through the verification code provided by Google.
Tip 3: Create a Detailed Business Description Mixed With Your Target Keywords
Craft a compelling business description that informs users about your offerings and strategically incorporates relevant keywords. This description should be a concise and engaging overview of what your business does and what sets it apart.
Tip 4: Add Photos
High-quality and up-to-date photos of your business, products, and services can leave a lasting impression on potential customers. Visual content adds credibility to your listing and gives users a better understanding of what to expect.
Tip 5: Post Regularly
Utilize the "Posts" feature on your GMB profile to share updates, offers, and events. Regular posting keeps your listing fresh and engaging while signalling activity to search engines, improving your rankings.
Tip 6: Build Credibility With Reviews
Encourage satisfied customers to leave reviews on your GMB listing. Positive reviews build trust with potential customers and play a role in search engine algorithms that determine local rankings.
Tip 7: Run Ads Occasionally
Google Maps offers advertising options that can boost your business's visibility, especially for competitive keywords. While organic optimization is valuable, occasional ads can help you stand out in a crowded local market.
Tip 8: Add Links to Your Website
Include relevant links in your GMB profile, directing users to specific pages on your website. This provides additional information and encourages users to explore more about your products or services.
Tip 9: Get Active on Social Media
Engaging with your local audience on social media platforms can indirectly contribute to your Google Maps SEO efforts. Your active and engaging business on social media can reflect positively on your online presence.
Tip 10: Build Local Backlinks to Boost Your Ranking
Earning backlinks from local directories, blogs, and other businesses can signal your business's relevance and authority within your community. This more advanced strategy involves reaching out to other local entities for collaboration and link-building opportunities.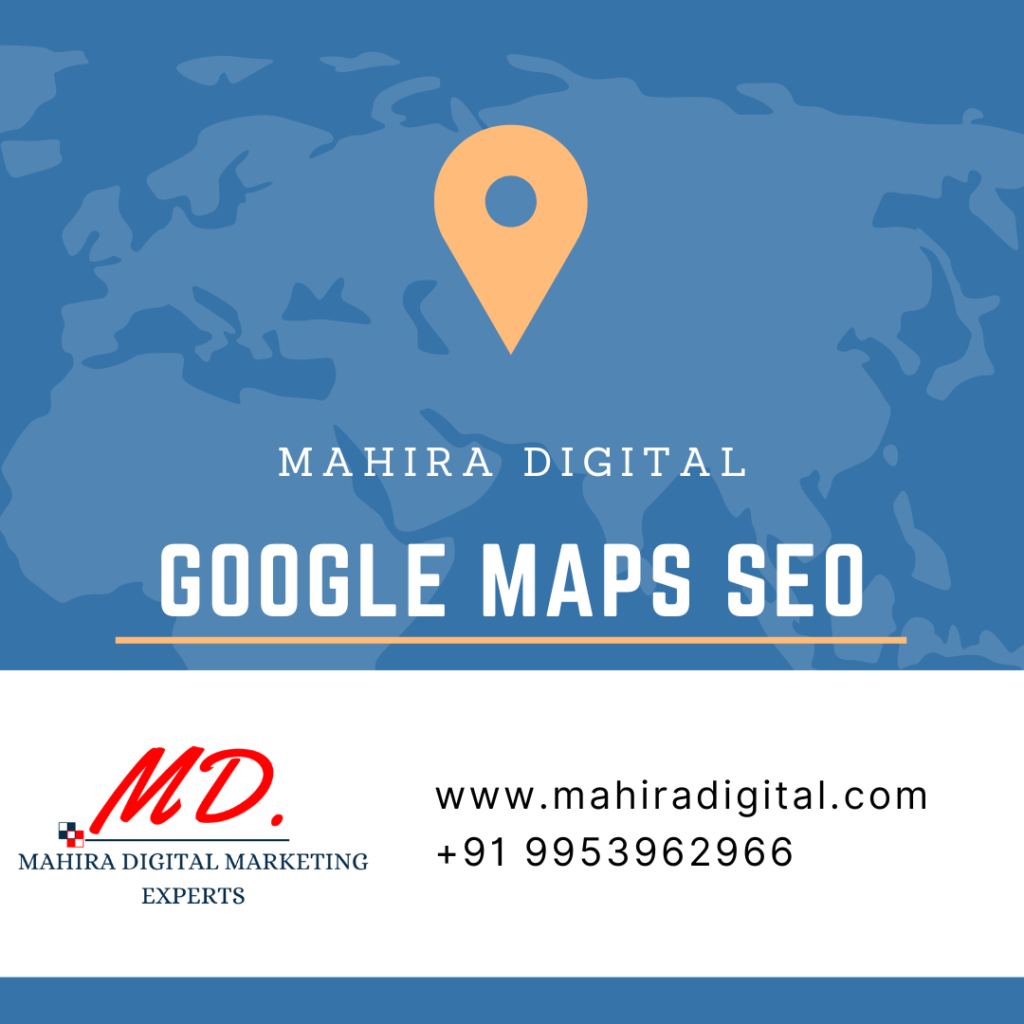 FAQs?
Q: What's the role of Google My Business in Google Maps SEO?
A: Google My Business is the cornerstone of your Google Maps presence. It's where you manage your business information, posts, reviews, and more. Optimizing your GMB profile is essential for improving your local search engine ranking.
Q: Can I improve my Google Maps rankings quickly?
A: Achieving higher rankings takes time and consistent effort. Be wary of shortcuts that promise instant results, as they can harm your long-term visibility. Google's algorithms prioritize businesses with legitimate and consistent information and positive user interactions.
Conclusion
In the era of "near me" searches, Google Maps SEO has emerged as a game-changer for local businesses.
By optimizing your Google Maps presence, you can ensure that your business stands out in local search results, driving more customers through your doors.
Remember, the key is to provide accurate information, engage with your audience, and build credibility through reviews and quality content.
So, take advantage of the opportunity to maximize your local search engine ranking through Google Maps SEO.
About Mahira Digital:
Mahira Digital is a leading digital marketing agency helping businesses establish a solid online presence.
With expertise in SEO, social media marketing, content creation, and more, Mahira Digital empowers businesses to reach their target audience effectively and boost their online visibility.
Partner with Mahira Digital to take your Google Maps SEO efforts to the next level.
Their team of experts can provide personalized strategies to elevate your local search engine ranking and drive tangible results.