Welcome to Mahira Digital: Leading Digital Marketing Company in Bangalore
In today's digital world, whether you want to buy, sell, study, or explore, it all happens online. Businesses must establish a dominant digital presence to thrive. You might have come across companies with great intentions but struggle to grow. Ever wondered why? It's often due to the lack of a digital strategy and inadequate digital marketing services.
At Mahira Digital, we understand the importance of helping businesses succeed through innovative solutions and strategies. Our team comprises passionate marketers, strategists, and storytellers with a single mission: to enhance your company's consumer traffic, engagement, and overall growth.
Why Choose Mahira Digital The Best digital marketing agency in Bangalore?
As the top digital marketing agency in Bangalore, we empower businesses of all sizes, ensuring the world talks about you! We offer an array of services tailored to meet your specific needs.
Our Digital Marketing Services in Bangalore:
1. Visual Strategies:
We assist you in creating compelling visual strategies that resonate with your audience. Our expertise lies in creating visually appealing content that leaves a lasting impact.
2. Motion Graphics & Animations:
Our team specializes in motion graphics and animations that captivate your audience and convey your message effectively. We bring life to your brand through engaging visual elements.
3. Mutual Goal Achievement:
We work collaboratively with you to define and achieve mutual goals. Our team aligns your business objectives with effective strategies to maximize your success.
Our Results:
We have a proven track record of delivering exceptional results for our clients. Here are some key metrics:
– SEO Services: 95% success rate
– Social Media Management: 90% client satisfaction
– Website Development: 93% project completion rate
– Website Analytics: 80% improvement in data insights
– Paid Search (AdWords): 85% increase in ROI
– App Store Optimization: 80% success rate
Client Testimonials:
We take pride in our achievements, including completing 6247 projects, serving 918 clients, consuming 9421 cups of coffee, and having 896 happy clients.
Here's what our clients say:
"Our collaboration with Mahira Digital has been a game-changer for our business. Their innovative ideas and solutions have significantly impacted our brand recognition and customer engagement." – [Sarvagya]
Our Promise & Core Features:
1. Lead Generation of High-Quality: We focus on driving high-quality leads to your business, increasing conversion rates and customer acquisition.
2. Effective Audience Involvement: We engage your audience effectively, fostering meaningful interactions that build trust and loyalty.
3. Outperform Your Rivals: Our strategies help you stand out in a competitive market, gaining an edge over competitors.
4. Increased Return on Investment (ROI): We optimize your marketing efforts to maximize ROI, ensuring every investment counts.
5. Build Brand Recognition, Reputation, and Influence: We work towards enhancing your brand's visibility and credibility in the digital landscape.
Our Approach:
At Mahira Digital, we conduct extensive research to develop innovative ideas and solutions tailored to your company's needs. We believe in humanizing your brand and fostering trust between your business and customers, leading to improved engagement and conversions over time.
Digital Marketing Services in Bangalore:
Apart from SEO services and paid search (AdWords), we offer a wide range of digital marketing services in Bangalore, including email marketing, web development, web analytics, and social media marketing (SEM). We prioritize empathy and collaboration, striving to help your business succeed. Our enthusiasm for digital media, dedication, and competitive pricing options set us apart.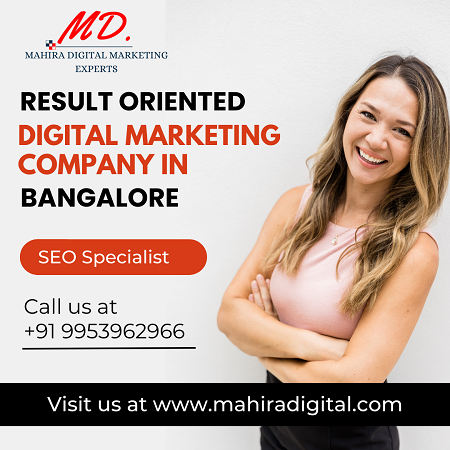 Why Choose us as the best digital marketing agency in Bangalore?
By choosing Mahira Digital, the top digital marketing company in Bangalore, you'll receive the following benefits from our team of techies and digital marketers:
– In-depth evaluation, strategic planning, and implementation of the best solutions for your business
– Customized strategies tailored to your unique requirements
– Commitment to making a difference in your business's success
– Support in creating your dream business empire
Meet Our Team:
Our team at Mahira Digital comprises talented, creative professionals passionate about digital marketing. Our technical team handles SEO, SMO, and web design, while our creative team focuses on content, design, and social media. Together, we work seamlessly to elevate your brand.
Client Portfolio:
Our extensive client portfolio includes renowned names such as Tata Housing, Orient Cement, Restolex, Ziphop, Acharya Bangalore B-School, Foundation School, and many others. Our clients are delighted with our digital marketing services' results, boosting their brands in the digital space.
Pocket-Friendly Packages:
Being the top digital marketing agency in Bangalore, we offer attractive and pocket-friendly packages that suit your business type and marketing requirements. You only pay for the specific services you need.
Digital Marketing FAQs:
1. How can one trust digital marketing companies for their services in Bangalore?
Not all digital marketing agencies are created equal. Look for agencies with a strong online presence, excellent customer service, social proof on their website, and result-driven testimonials or case studies. With over 8 years of experience, Mahira Digital is one of the trusted digital marketing agencies in Bangalore.
2. Why do businesses need digital marketing services in Bangalore?
With 81% of people searching online before making a purchase, a strong online presence is crucial for businesses. Digital marketing allows you to reach and engage your target audience effectively. It is cost-effective, transparent, and helps businesses measure success accurately.
3. How can one evaluate solutions from a digital marketing company in Bangalore?
At Mahira Digital, we build a brand, not just a business. We measure success by setting achievable goals and tracking key metrics such as website traffic, engagement, and conversions. Our open communication and commitment to your success make us stand out.
4. How do digital marketing services benefit startups?
Digital marketing services offer startups increased conversion rates, lead generation, sales, customer engagement, and ROI tracking. It provides cost-effective marketing solutions and helps reach a larger audience. Startups can leverage digital marketing to establish their brand and gain a competitive edge.
5. Do digital marketing companies in Bangalore offer content creation services?
Yes, content creation is a crucial aspect of digital marketing. At Mahira Digital, we provide high-quality content that aligns with your brand's values and resonates with your target audience. Our research-driven approach ensures compelling and engaging content.
6. Do digital marketing agencies discuss the strategy with the client before proceeding?
Absolutely! We believe in the importance of strategy before execution. Our team spends time understanding your business, goals, and objectives. We collaborate with you to refine the strategy and make necessary adjustments to ensure alignment with your objectives.
7. When hiring a digital marketing agency in Bangalore Do I need to sign a contract?
Signing a contract establishes a fiduciary relationship between the client and the agency, ensuring privacy and accountability. It outlines payment terms, performance guarantees, disclaimers, termination conditions, and the scope of work. It provides both parties with clarity and protects their interests.
Contact Us:
Ready to elevate your business's digital presence? Contact us today to discuss your requirements, and let us craft the perfect digital marketing strategy for you.
Remember, at Mahira Digital, we build brands that stand out and drive success in the digital realm!