SEO Company for Pet Care Services Company
Get 100% White Hat and best-in-class SEO services to improve your Google organic ranking.
In the pet service industry, where competition is fierce, it's not easy to stay in business, promote your business offline, and make more money. But because internet marketing gives every business the same chances, a good digital marketing plan can help your business grow. More than 80% of pet owners look for pet services online. Digital marketing is a long-term strategy that requires tact and wisdom. And if you do it right, it gives you a strong hold on the market, which is important if your business wants to reach the right people. So, if you offer pet services, you need to work with an experienced SEO company in Delhi. They can dramatically improve your search ranking by getting the word out about your products and services to the right people on the right platforms.
At Mahira Digital, we have a team focusing on SEO for pet service companies. This team knows how to rank well on major search engines like Google. We find the right balance between on-page SEO, off-page SEO, and technical SEO so that your pet service SEO campaigns get the most out of them.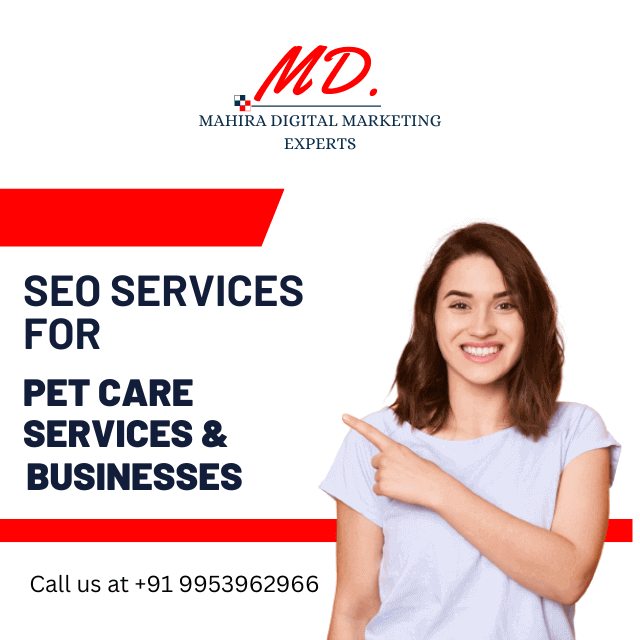 Why Do Petcare Services Businesses Need SEO Services?
It's no secret that taking care of pets is very competitive. You need to have a strong online presence to stand out from the competition and bring in new customers. SEO comes into play here.
SEO, which stands for "search engine optimization," is a way to make a website rank higher in search engine results pages. In turn, this brings in more people and more customers.
SEO is good for pet care businesses in many ways. Here are a few examples:
Increased traffic
As a pet care business owner, you're always looking for ways to get more clients and grow your business.
SEO, or search engine optimization, is one of the best ways to do this.
More people will see if your website shows up higher in search engine results. It means that more people who might be interested in your business can find you and learn about it.
SEO can increase the number of visitors and the number of people who buy something. People who use a search engine to find your website are already interested in what you have to offer. They need to find the right business to give it to them.
Let's say they see that your website is well-made and has the information they want. If you do that, you will likely get in touch and buy something from yourself.
As you can see, SEO can help pet care businesses in many ways. Now is the time to start if you aren't already using it to bring in new customers.
More customers
Any business that wants to do well online needs a website that gets many visitors.
After all, potential customers can't buy anything from your site if they can't find it.
But increasing the number of people who visit your site is not enough. You should also make sure that the traffic is good for your business.
For example, a website about pet care probably won't benefit much from more visitors interested in fashion.
But if more people come to the site looking for information about pet care, sales are much more likely to go up.
So, if you want more people to visit your site, you should focus on getting the right visitors. If you do this, it will be much more likely that your sales will go up.
Improved brand visibility
SEO can help businesses like making their brands more visible. As your website moves up in search engine rankings, more people will be able to find it.
It can help people learn about and remember a brand, leading to even more customers.
SEO can also help increase click-through rates since people are likelier to click on a listing at the top of a search.
And finally, SEO can lead to more people visiting your site because people looking for products or services you offer are more likely to find them.
SEO can be a powerful tool for growth and success when done right.
Higher conversion rates
Anyone who has attempted to market a website knows that a high position on search engine results pages (SERPs) is crucial for generating traffic. However, many do not realize that a high ranking can also increase conversion rates.
In other words, more individuals will be able to locate your website. They will be more likely to utilize your products or services.
There are numerous explanations for this. People actively searching for something are already interested in your offer, so you should target them first.
They are more likely to purchase or utilize your services than those who stumble upon your website by chance.
Second, a high ranking on search engine results pages indicates that you are a credible and reliable source. It can give prospective customers the assurance they need to purchase.
Lastly, being at the top of the results page makes it simple for potential customers to locate you; if they have to scroll through dozens of results, they may abandon the search and go elsewhere.
Therefore, a high ranking can result in increased sales and revenue.
Anyone serious about marketing their website should strive for the top spot on search engine results pages (SERPs).
More repeat customers
Pet owners know it takes time, effort, and money to take good care of their animals. Taking care of a pet can be expensive since you have to take them to the groomer, buy them toys and food, and make sure they get enough exercise.
Because of this, many people who have pets are always looking for ways to save money. One way to do this is to look for places that give discounts to people who buy from them more than once.
SEO can help with this because it makes it easier for people to find your website and find out what you have to offer.
By making your business more visible online, you can get more repeat customers and make more money for your business.
SEO can also help customers remember your brand and build long-term relationships with them.
In general, SEO is good for pet care businesses in many ways. You need to pay for SEO services to get more customers and make more money.
Doing these things can improve your online presence and help your business do better.
Our Seo Services for Pet care Services Company
At Mahira Digital Marketing Agency, we offer a comprehensive set of digital marketing services for the pet care industry. These services cover every facet of online marketing, from the design and development of websites to search engine optimization (SEO) and social media marketing.
Initial Audit
The first step in our SEO process is to audit your website fully. We look at your site's structure, design, and user experience (UX) to see how well it works with Google and to find any problems it might have. After the site audit, our SEO experts will list all the problems that need to be fixed and report them. There may be one or more technical errors and other SEO problems on your site and page, such as:
broken links
missing tags and headlines
duplicate content
slow page speed
crawl errors
URL structure
301 redirects
XML sitemaps
Pre-optimization
In this step, our SEO specialists will create and deliver a thorough analysis of your website and its pages. They will then use resources like Google Webmasters and Trends to conduct keyword research and comprehend what online users are searching for. Based on the findings, they will compile a preliminary list of the best relevant keywords that need to be targeted and optimized. They then define the keyword objectives after creating the list.
To understand what your top competitors are doing in the market and which keywords they focus on, our marketers will conduct a competitor analysis. Our experts will concentrate on extending and filtering the initially created keyword list after a final subtraction. Finally, a list of chosen keywords is created and provided to you.
On-Page SEO Services for Per Care Services businesses
Our SEO experts will optimize your website's various features and content for search engines and target audiences. On-page SEO, when done correctly, has the potential to bring a ton of new visitors to your website. During this step, they will concentrate on enhancing various on-page SEO components, such as HTML, content, and site architecture. Your pages will examine, and on-page SEO will be improved by:
Examining the URLs of your existing pages; if necessary, updating page titles, Meta descriptions, and URLs;
Use the appropriate keywords in URLs;
Positioning and distributing targeted keywords across the entire page;
Creating unique value propositions for all pages;
Planning and including titles for new pages as required;
Incorporating and optimizing your visual content and incorporating both internal and external links.
Google My Business Setup/Optimization
Every business needs an optimized Google My Business profile to establish a solid online presence, increase traffic, enhance user engagement, and generate more leads. Therefore, our specialists will assist you in setting up and optimizing your Google My Business account. After all applicable sections and attributes have been addressed, our SEO specialists will optimize your Google My Business account. That comprises:
Creating a one-of-a-kind and engaging description of your company; Including your contact details and operating hours; Uploading high-quality, relevant images; Selecting and emphasizing features unique to your category.
Having satisfied customers who leave glowing testimonials;
Adding your products and services to Google My Business and responding to questions asked by customers in the Questions & Answers section.
Monthly Content Marketing
Page content allows you to convey your mission and values to your intended audience and site visitors. On top of that, if you want to rank highly in search engines and attract targeted visitors, you need to optimize your content. As part of our marketing services, we'll make sure your website's content is interesting, informative, and full of relevant keywords. They'll dig into your target demographic, map out their typical online journey, and recommend channels that will help boost your site's authority and credibility in the eyes of search engines, all in the name of content marketing. Our content marketing experts then disseminate the finished product across various online and social media platforms after it has undergone final editing and testing. We will also assist you in adapting the content already present on your website to meet your needs and content advertising objectives.
Monthly Link Building
There's no doubt that building links is one of the most important parts of your SEO strategy as a whole. Our digital marketing and SEO experts will work with you to build a strong link-building strategy that will bring more people to your site and attract new ones. They will get good links from well-known sites and put them on your business website. Here are some ways our experts can help you build links:
Separate high-quality backlinks from low-quality ones.
Figure out which links are worth sourcing.
Check the authority of the websites you are building links to.
Find out if those websites are relevant.
Putting links, you've found in the right place on your page
Add anchor links to the code of your page.
Monthly Reporting
Lastly, our SEO experts will track and measure how well the SEO strategies and campaigns that were implemented and run are working. They will send you monthly reports based on data and help you understand what we have been doing and how far we have come. The reports will thoroughly examine the last 30 days' traffic, leads, and keyword rankings. You will also get a well-organized look at your ranking history, click-through rate, backlink profile, and any other conversions that go with it.
Why Choose Mahira Digital As Your SEO Agency?
We Can Help Your Pet Services Expand Business Online
Mahira Digital is an industry-leading digital marketing firm that provides various pet care SEO services to help you achieve your goals. Here are some justifications for selecting our pet SEO services.
Experienced Team
Our SEO specialists have extensive experience in the pet industry and understand what it takes to achieve a high search engine ranking for your website.
Latest Tools
Our pet care SEO services utilize cutting-edge tools and methods so that you can stay ahead of the competition.
Affordable Price
We provide cost-effective SEO services for pet care websites so that you can get the most for your money.
Comprehensive Services
We provide a vast array of pet care marketing services, including SEO, local SEO, social media, PPC, content marketing, and email marketing, all under one roof.
New Techniques
Our pet care SEO services are continually updated to ensure we employ the most recent and effective techniques and deliver the best results to our clients.
ROI Driven
Our company is a results-driven digital marketing firm. Our primary objective is to help you acquire more customers and generate more business through organic search results.
SEO services for pet care services businesses
If you run a business that takes care of pets, you know how important it is to be online. After all, people looking for pet care services look for them every day.
But there is so much competition that it can be hard to stand out. It is where our SEO services for pet care come in.
We offer targeted SEO services to help your site rank higher and get more exposure.
We've been doing SEO for over 5 years, so we know what it takes to get your pet care business to rank high on Google and other search engines.
Our SEO experts will work with you to create an SEO plan unique to your business.
We'll help you tweak your website and its content so that search engines like Google rank and show them more. Because of this, you'll get more people to your website, more leads, and more customers.
Don't miss out on customers looking online for pet care services.
Contact us or call +91 9953962966 to learn more about our SEO services for pet care businesses.